Writing about the War
A Chill in the Air: an Italian War Diary 1939-1940 by Iris Origo.
A Schoolmaster's War: Harry Rée. British agent in the French Resistance Edited by Jonathan Rée.
On a quick count, I have seventy-five books on my shelves covering the Second World War or around 5% of the total in our flat (a curiously appropriate number given it is 75 years since the War ended). No other category can compete. My collection stretches back to the 1950s when I bought the Penguin editions of books by 'Johnnie' Johnson and the French fighter pilot Pierre Closterman.  Looking at my bookcase now, I see histories by Max Hastings, James Holland, Patrick Bishop, Richard Overy, MRD Foot, Joachim Fest, Hugh Trevor-Roper and and many others, including my father, Ralph Bennett whose first book on Bletchley Park I had the pleasure of commissioning in 1975; many first-hand accounts, Geoffrey Wellum's First Light,  a compelling account of his part  in the Battle of Britain;  books by three brilliant war reporters, Alan Moorhead, Alexander Clifford and Christopher Buckley, along with an outstanding description of tank warfare by the youthful Keith Douglas, From Alamein to Zem Zem;  Christabel Bielenberg's breathtaking The Past is Myself and  Iris Origo's War in Val d'Orcia, a striking diary of the civilian's war which I read on the train going back to boarding school in the late fifties.
I can remember vividly not wanting that train journey to end because I was transported to the farm in Val d'Orcia in Tuscany where Iris Origo lived out a very different kind of war to that I read about in the escape books by Paul Brickhill and Airey Neave. War in Val d'Orcia covers the years 1943-44,and recounts the author's experiences running the farm at La Foce while helping allied prisoners of war and partisans hiding in the woods, looking after refugee children fleeing from allied bombing, and bringing up her own children and above all avoiding imprisonment or death. This was war from an angle I'd not come across before, and it told me with an unforgettable clarity of the suffering of civilians. But the book is not an account of doom and despair. It is a study of courage and how to survive in extreme circumstances. As she tells her story in cool, unemotional prose, the reader realises that we are in the presence of a most remarkable woman.  War in Val d'Orcia is an exceptional book  and one that I hope will continue to be read for decades to come. 
Some time ago I found a first edition hardback published by Cape in 1947. But that Penguin edition of 1956 remains a prized possession because of the memories associated with it.
Iris Origo's diary of the years 1939-40, A Chill in the Air, was not published in her lifetime. It was found among her papers in La Foce and published by Pushkin in 2017. I was given a copy during the Covid-19 lockdown and read it with huge enthusiasm. Here the perspective is very different. Iris Origo records the ever-changing reaction to the unanswered question that affected every Italian's life: will war come? The quest for the certainty of truth is the thread of this short but compelling book. In her increasingly desperate search for an answer, the author consumes the papers (they have no independence of view), she and her husband, like all Italians, listen constantly to the radio. She records gossip, anxiety, resignation, despair of those around her, not one of whom can second-guess what Mussolini will do.  She visits her high-level connections in Rome to find an answer but even the the American ambassador doesn't know. What she describes is the emotional roller-coaster of contemporary life: hopes for peace rise, then fall, then rise again, until the fateful day when war is declared and Iris finds herself living in a country allied to the Nazis.  
At  time of growing tension in Europe, the reader is made continuously aware - though without any expression of emotion - of how utterly powerless the civilian is. What is true? Iris asks herself and her friends. What is propaganda? In the papers, the success of fascism is compared with the weakness of the democracies of Britain and France, a perspective I had never encountered before that reveals so tellingly how others interpreted and represented the actions of the British government in the build-up to 3rd September 1939. 
This powerful book tells the familiar story of the drift to war but from an entirely new perspective which is what gives it its significance. Civilians are often referred to as "non-combatants." This extraordinary diary tells us of the suffering of ordinary people who cannot affect the decision to go to war but who  know unerringly that if war is declared they will be forced to suffer.
Harry Rée was a pacifist and a schoolmaster for whom the Fall of France was a decisive moment in the war. He joined up, found he disliked authority and was recruited by SOE in 1942 and in 1943 was parachuted into the Jura district of France to help the Resistance movement. This book is a collection of Rée's writings assembled by his son, the philosopher, Jonathan Rée. It covers his account of his recruitment and training by SOE and then his life behind the lines. It is not a consistent narrative. The book is made up of Rée's diaries, stories based on his experiences written for young people, his broadcasts, lectures and letters.  As he says at the start, knowing that if he were killed or arrested, it would be his own fault "meant freedom and adult self-responsibility." The book is a honest account of his months in enemy territory, relying continually on the friendship and support of the French who show remarkable courage in helping him. He stresses that they were "ordinary people," men and women who were prepared to risk their lives in the fight against the enemy. (There is a fascinating glossary at the end summarising what happened to all those he mentions in his narratives, many of whom died at the hands of the Nazis.) He tours the region organising drops of  arms and explosives to blow up railway lines. He trains young members of the maquis. He organises operations against the enemy. He listens to the BBC for news his daughter's birth. When stopped by the gendarmes, he is frightened and with cause. His papers are forged. There are successes and setbacks. There is a traitor in their midst. Rée walks into a trap but manages to escape, though shot in the shoulder and the chest. He describes vividly the death of one of his French agents. These accounts are dramatic because what happened was dramatic. 
The reticence in Harry Rée's writing that matches that in Iris Origo and gives a kind  of nobility to the narratives. There is no ego in either of these accounts. There is only the truth of "this is how it was and this is what I did." Nothing more because we don't need any more. The straightforward prose describes events that have their own tensions.  Harry Rée 's description of what he did during his time in France adds up to an extraordinary account of dedication and courage by the author and those who risked their lives with him.
Why add two more books to what you could argue is an already overcrowded library of war books? Because the experience of war by a rich landowner in Italy or an English schoolmaster working for the SOE in France tells about very different lives lived at the edge. What remains constant to both - and is a salutary reminder to us today - is their quiet accounts of what human  nature is capable of doing in the face of extreme circumstances.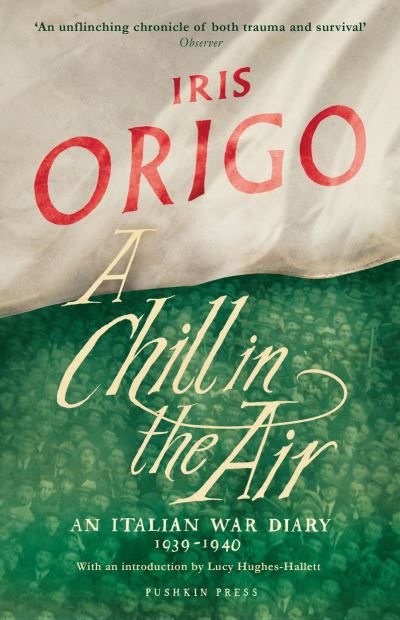 A Chill in the Air: an Italian War Diary 1939-1940 by Iris Origo.
Published by Pushkin Press
£14.99
186 pages
ISBN 978-1-78227-355-0
Buy it from Waterstones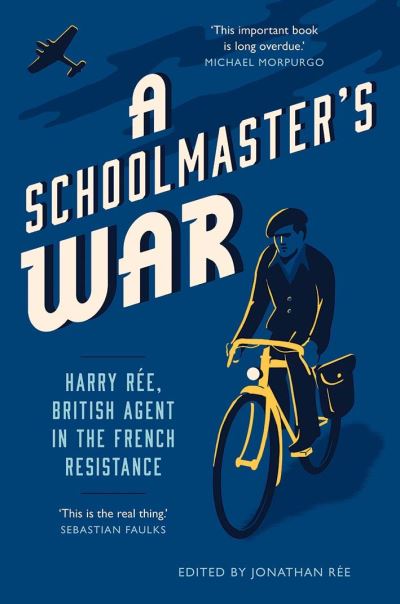 A Schoolmaster's War: Harry Rée. British agent in the French Resistance Edited by Jonathan Rée.
Published by Yale University Press
£14.99 
216 pages
ISBN 978-0-300-24566-0
Buy it from Waterstones
What I'm also reading at the moment
Dr. Thorne by Anthony Trollope
I have only started to read Trollope recently.  In May 2019, we spent a week in Sicily, not in the warmth of the early summer sun as we had expected but freezing in temperatures that the locals said apologetically they had never experienced before. We should have realised as we disembarked from the plane and saw the blanket of snow covering Vesuvius that all was not well. The week was redeemed for me by reading Trollope's The Way We Live Now, the story of the rise and fall of the financier August Melmotte which absorbed me to such an extent that I (almost) forgot the cold.
Now, in this lockdown, I have read Trollope's Dr Thorne and once again I have been wholly absorbed in the lives of Trollope's characters, in particular the love affair between Mary Thorne and Frank Gresham. It is a story of class and money, how both can distort social attitudes and behaviour. Trollope mocks the snobbery of his times through the attitudes and behaviour of his characters. There is no attempt on his part to make up our minds for us about his characters people. Only by knowing them can we judge them and sometimes judgement can be difficult.
This, it seems to me, is where his genius so clearly differs from the genius of Dickens. The moment you meet a Dickens character, you know where you stand with them. You hate them or you fear or you love them. Can there be a more evil man than the lawyer Mr Tulkinhorne in Bleak House, nor a more honest and good woman than Esther, a kinder or more generous man than Mr Jarndyce, nor a more slimy individual than Skimper?
There is little moral ambiguity in Dickens. He wants us to know right from the start who is good and bad, who are heroes, who are villains. The narrative is the battle between these two forces with the outcome that good usually overcomes bad. This 'simplicity' of approach is the product of Dickens's anger at the injustices he sees around him which he must do what he can to reform.  Trollope doesn't deal in caricature.  His heroes and villains are in many ways more complex than Dickens's characters because they are people we might meet in our daily lives (and probably do)  He intends us to see the virtues and vices in his characters. He wants us, his readers, to make up our own minds about them. The judgement must be ours. This doesn't mean that he is more forgiving than Dickens. He allows his readers a freedom that often Dickens doesn't. He prefers to show his comment on our natures through mockery, showing how wrong it is to judge the world on the basis of class or money.
In Dr Thorne, we always know that Mary will marry Frank even though she is a pauper and Frank "must marry for money" to save the estate. Yet Frank never deviates from his love for Mary and is prepared to risk all for her.  The irony is that in the end her goodness isn't enough for the conventions of the time. Ironically, she must  inherit a fortune in order to sae the day. Her unexpected inheritance is both a wonderfully satisfying ending and (in the cold light of day) improbable. We don't care, of course, because Mary and Frank are made for each other and we want those wedding bells to ring, as of course they do.
What a wonderful, unforgettable novel, in many ways as true today as it was when it was written more than 150 years ago.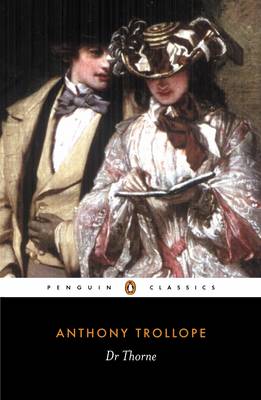 Doctor Thorne by Anthony Trollope
Buy it from Waterstones
The Eighth Life  by Nino Haratischvili
I have an aversion to long books (by long I mean anything from 500 to 1000 pages). It's all right if the author is a genius - I love Dickens's Bleak House and Trollope's The Way We live Now. But so often when reading reviews of books on topics in which I'm interested I find the length is a real deterrent. Why do so many books today have to be so long?  I simply don't have the time to dedicate myself to reading 800 pages or more. What has caused this trend is open to debate - perhaps an author's fear being open to criticism because of missing some fact about the subject? Or perhaps the sheer accessibility of information today means that summarising has fallen out of fashion? Who knows? 
So you can imagine my feelings when a friend gave me a copy of The Eighth Life, a novel of 928 pages covering the decades that Georgia was under communist rule. By any test, it is a massive book. But, once begun, I found it un-put-downable. It is a very long time since I have read a contemporary novel that  gave me as much pleasure as this one.  Retold by the narrator, Niza Jashi,  to her niece, Brilka, it is the story of six generations of the Jashi family, mostly from the viewpoint of the women in the family.
This chronicle of life under communism is a timely reminder of a period that for many today is simply a matter of history. As so often, time can soften the truths of history to create an entirely new and false narrative. Communism was a delusion which led to the death and suffering of untold millions. For anyone who still believes that Marxism's legacy inspires millions around the world to fight for peace and social justice, The Eighth Life serves as a devastating corrective.shattering any illusion that the impact of communism on ordinary life was anything but an utter disaster. This is what life was really like, Nino Haratischvili challenges the reader - could you survive in a world like this? 
What this book achieves so brilliantly is to bring home that experience in terms with which one can identify. This is not the world of high politics but of the decisions that those who lived under communism had to make in order to survive.  Nino Haratischvili brings the perils of communism into our own domestic lives. What she tells us is shocking but all too believable.
Structure and narrative drive in a multi-character novel over more than seventy years calls for an enormous range of skills from an author. Nino Haratischvili delivers brilliantly.  Her focus never wanders. Her drama hooks you into the fate of this family, some fortunate, some unfortunate, like any family anywhere. A wonderful, enthralling novel of very high quality.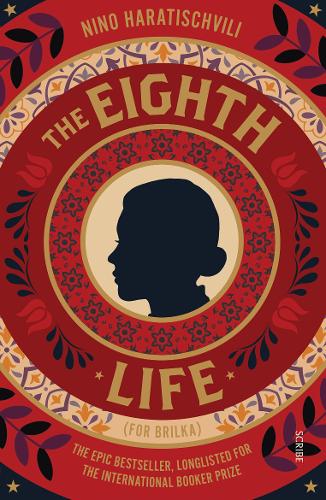 The Eight Life by Nino Haratischvili 
Buy it from Waterstones